This Weekend: Magnolia Blooms and Lunar New Year at the Zoo
By Schad Dalton
Events:
It's Super Bowl Weekend and with the 49ers making their first appearance since 2013 it is a relatively quiet weekend in the city. However, there are still lots of fun activities for those who aren't football fans. On Saturday evening, SF State University will host performances of Beethoven during the annual
Yehuni Menuhin Seminar and Festival
at Knuth Music Hall. Head over to the SF Zoo on Saturday to enjoy some special Lunar New Year-themed activities. For those feeling a little wintertime cabin fever, spring is just around the corner and there are some opportunities to enjoy the great outdoors, including a field trip of
Lobos Creek Valley in the Presidio
and the annual Magnolia Bloom at the SF Botanical Garden. Lastly, the
Asian Art Museum free admission day
is this Sunday (and every first Sunday of the month) in the Civic Center. Read more about our featured events below.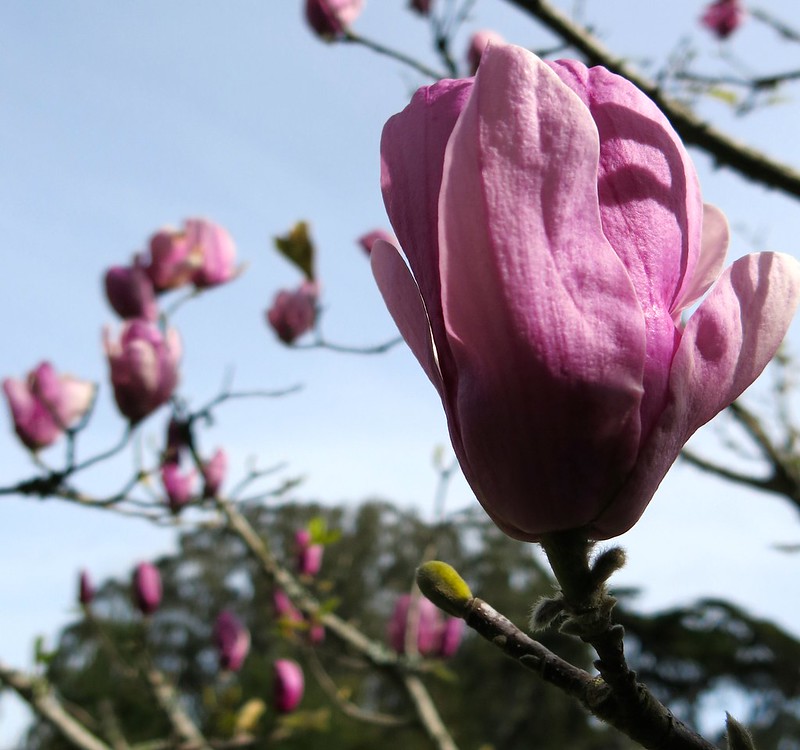 Check out the beautiful magnolia blooms at the SF Botanical Garden this Saturday in Golden Gate Park. Photo: torbakhopper/Flickr
SF Botanical Garden Magnolia Bloom
Saturday, All Day
SF Botanical Garden (Golden Gate Park)
The annual bloom of over 200 magnolia trees typically reaches its peak from mid-January through March and this weekend will offer a prime to to view the
stunning natural display at the SF Botanical Gardens
in Golden Gate Park. While the tree branches are generally rather bare, they make for a more visually dazzling relief as the magnolia buds bloom into pink, magenta, and white flowers that provide some of the first pops of color of the spring season.
---
How to Get There on Muni:
Riders may take the N Judah Line, as well as the 6 Haight/Parnassus, 7 Haight/Noriega, or 44 O'Shaughnessy routes to near the botanical garden.
Muni Service Notes:
There are no planned service changes for this event.
Free SF Zoo Day for "Rats"
Saturday, All Day
SF Zoo
Are you thinking about visiting the zoo? Were you also born in the Year of the Rat? Then this Saturday has you covered with a
free zoo day
! If you or a loved one were born in 1936, 1948, 1960, 1972, 1984, 1996, or 2008, then admission to the San Francisco Zoo will be free in celebration of the Lunar New Year. In addition to the traditional zoo offerings, visitors this Saturday may also enjoy the Chinese lion and folk dance performances at 11 a.m. and 1 p.m.
How to Get There on Muni:
Riders may take the L Taraval Line, as well as the 18 46th Avenue, 23 Monterey, 29 Sunset or the 57 Parkmerced routes to near the zoo.
Muni Service Notes:
There are no planned service changes for this event.
Upcoming Events:
Next weekend will host several large-scale events around town. As Spring Training draws ever closer, get an early baseball fix by swinging by Oracle Park for the annual
Giants FanFest
. Celebrate the Lunar New Year during the weekend-long
Chinese New Year Street Fair
, and don't miss the spectacular
parade
on Saturday evening.
Remember that you can take Muni for the entire day for a single $5 fare. The new $5 Day Pass, available on MuniMobile
®,
is part of Muni's recent fare changes. The pass is intended to encourage a safe, convenient way to pay your fare and quickly board Muni vehicles, which reduces overall travel time for everyone. The $5 Day Pass is Muni bus, rail and historic streetcars only.
"On Tap" gives you a heads up about the big events in town and what Muni routes and lines will get you to the party. Look for this feature to be posted usually on Thursdays for a look ahead to the weekend. Check out our
Weekend Traffic & Transit Advisory
for more details.
Published January 30, 2020 at 04:36AM
https://ift.tt/2O8hD0D.